Editorial, Global Village
Max Poglia is a Sharper Mind to Cut Through
Poglia is clearly a brand designed for the journey, the long run and the future.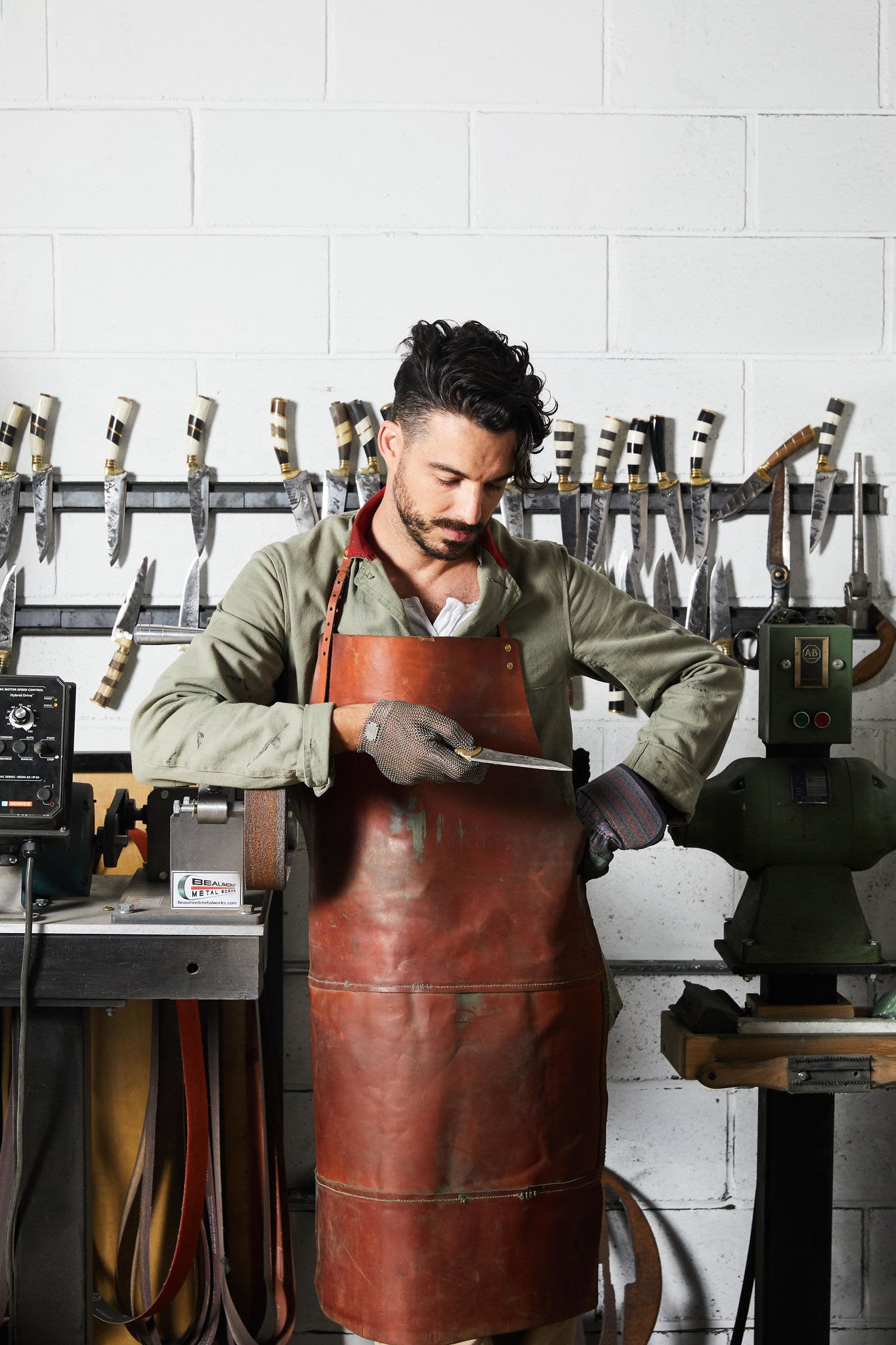 How do you continue to evolve the brand and still keep it classic?
Poglia is a lifestyle brand heavily inspired by natural elements and age-old handcrafted techniques. But the brand was born very organically without clear intentions in the beginning, it was just an attempt to extend the lifestyle I used to have, but in New York.
A lifestyle I used to take for granted growing up in the south of Brazil or living in Italy years later. For me there is no better words to define Poglia than how the NYTimes described us "Poglia, a throwback to simpler days for the modern man". This quote is our motto to project the future… Poglia is a reminder to us of the joy to spend time together, gathering for a long time, the comfort of the things we know but with the curiosity of how things will evolve overtime… just like our blades and the natural patina.
How did the Poglia company come about? And why knives and bags?  What does the whole Poglia company consist of?
Poglia strives to embody quality, utility and sustainability on all fronts, and we are proud of our devotion to ethical and sustainable processes. We're committed to preserving the history & uniqueness of our materials and practices.
Myself as a creative director I have lots of curiosities outside of Poglia… and I love to work on new projects, mostly of the time, with a sense of nostalgia in mind. Poglia as a company – we have our blankets as our blank canvas with an outdoor-indoor picnic idea in mind… if it fits inside the blanket, Poglia can make it… leather bags, knives, pocket knives, candle holders, ashtrays, corkscrews and bottle openers to list a few.  But we have passion enough to circulate in fashion and design as a whole with the same principles in mind.
Your personal life has changed and your family is expanding. Will the company expand as the family expands?
Yes, I have Flora, my 2 and half year old daughter and Filippo, my newborn son… as a father now I can't think about this "picnic" idea and have the kids around that blanket. So while shopping vintage for the kids for example, I couldn't help myself but to do a limited line of kids repurposed vintage t-shirts for Poglia. I also love to turn our leftover leather into baby shoes, it's just a question of time to turn it into a side brand. We are always thinking of how to expand without losing integrity. But we really like to think we are creating the items that the new generation would like to keep in the future, pieces that will bring the nostalgic days back and can always be conversation pieces around any table.
How do you choose your collaborators?
As a pisces (and I know nothing about the other signs) I'll say feelings and emotions – but that has brought me enough trouble already (laughs). I had to learn the hard way that not everyone has enough ethics to work with other people. So now I force myself to be more rational and bring the same principles that I have in design to choose my collaborators: ethics + aesthetic. If we can make that work, my second step is trying to make intentions very clear.
The essence of who you are as a person comes through the work that you do, is that by design or are you just being your true self?
I'll say both. A combination of both. I think the essence of my work brought me back to the "village" where I used to belong. But the essence of who I am as a person brought me outside of that bubble as an individual. Reason that made me always appreciate the expression that Ouigi, the head of The Brooklyn Circus calls: the Global Village…
Poglia was born inspired by traditions, the gaucho style, with my trips back to south Brazil, knocking on doors, finding the craftsmen that are still making products for generations. That's why Poglia is still and will always be made in Brazil. In the beginning it was an excuse to be back to the village (home), today it's an answer to be global, if that makes sense…
The Global aspect of it made me evolve as a designer and human being. The same way we turned our knife handles, Poglia first signature products, into whole new products like our corkscrews, but the essence is still there and intact.
Your knives are designed to be used but also make beautiful display pieces. Is that correct?
Yes, there is nothing more beautiful than to see a natural patina being formed overtime and see the blades and leather evolve. But a pristine product, with all its beauty imperfections from the natural and reclaimed materials will always be great display pieces for any room, it brings some sort of comfort and joy, the product completes its purpose even if for contemplation only.